High-Efficiency Clothes Washer Rebates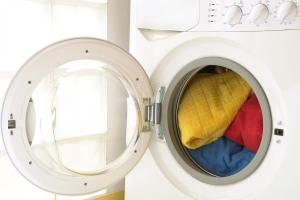 Southern California residents may qualify for rebates starting at $85 for the purchase of a high-efficiency clothes washer (HEW) from a list of qualified products. Visit SoCal Water$mart to apply. An additional rebate may be available from San Diego Gas & electric. Go to sdge.com for more information.
Clothes washing is among the most water-intensive activities inside a typical home. High-efficiency clothes washers (HEWs) use 40 percent less water and 25 percent less energy than conventional clothes washers, according to the EPA's Energy Star Program. The water savings for each residential HEW can be as much as 3,000 gallons per year. HEWs save energy because they use more efficient motors, require less hot water and reduce the amount of drying time needed for clean clothes.
Landscape Design for Homeowners Workshops
This free, three-hour workshop will teach homeowners the basics of how to do a landscape makeover. Topics include soil, design, turf removal, plant selection, planning, irrigation, rainwater catchment and implementation — all the elements needed to convert high-water-use turf to a beautiful, water-efficient landscape.
Premium High-Efficiency Toilet Rebates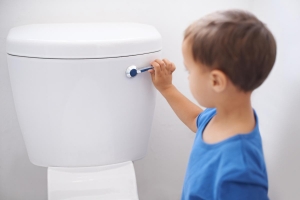 The SoCal Water$mart program provides financial incentives to encourage customers to choose 1.1 gallon per flush or less Premium High Efficiency Toilets (PHETs). Toilets are by far the main source of water use in the home, accounting for nearly 30 percent of an average home's indoor water consumption. Recent advancements have allowed toilets to use 1.1 gallons per flush or less while still providing equal or superior performance. Qualifying PHETs must be from the list of approved models. Rebates start at $40 per toilet.
Click here for a list of qualifying models.
Eligible toilets must replace existing toilets using 1.6 gallons per flush or more.
Premium high-efficiency toilets use almost 20% less water than the WaterSense standard and flush the same amount of waste just as, if not more effectively.
Water savings from high-efficiency toilets can save over $800 on your water bill over the lifetime of the product. Combine these savings with SoCal Water$mart rebates and premium high-efficiency toilet upgrades can pay for themselves.
The qualifying premium high-efficiency models available for a rebate have been performance tested and certified through MaP testing. MaP testing is an independent testing program.
Visit SoCal Water$mart for more information.

Rain Barrel Rebates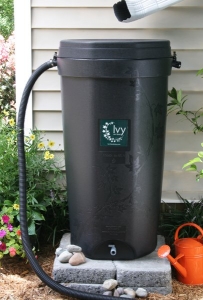 The SoCal Water$mart program provides financial incentives to encourage customers to collect and re-use rainwater by purchasing rain barrels or a cistern. Rain barrels and cisterns collect water from gutters and downspouts for use on your landscape while reducing the amount of water flowing into storm drains. Watch our 1-Minute Guide to Rain Barrel Installation below to see how easy it is.
Homeowners can get rebates of up to $35 each on residential rain barrels (up to 2 per home) OR$250-$350 for a cistern, depending on capacity. Visit SoCal Water$mart for more information on rebates from the Metropolitan Water District.
If you are a City of San Diego customer, you may be eligible to participate in their Residential Rainwater Harvesting (Rain Barrel) Rebate Pilot Program. You must be a City of San Diego water utility customer to participate in their program. Please note that this is a separate program and may have a separate application process and qualification criteria.
The Solana Center for Environmental Innovation offers discounted rain barrels that are eligible for rebates. Visit Rainwater – Catch It San Diego! for more information on purchasing and caring for rain barrels and on rainwater harvesting. Rain barrels can also be found at local home improvement stores, nurseries and specialty stores such as San Diego Drums & Totes and Barrels & Branches. RainThanks offers rain harvesting products and installation services.
To purchase the rain barrel featured in this video for only $90 visit Solana Center for Environnmental Innovation's online ordering site.
Rain Barrel and Rainwater Maintenance
In general rain barrels should be cleaned at least once a year with a non-toxic cleaner such as vinegar. If stagnant water sitting in the barrel develops a foul smell, you may want to drain and clean the inside. Or try adding a capful of regular chlorine (laundry) bleach to a full rain barrel to prevent algae and microbes that cause buildup. This chlorine dilution is safe for your plants as long as you wait a few days before using the water. Also, keep a lid on your rain barrel to block sunlight and keep out debris. Sunlight promotes algae growth and debris will speed the growth of slime.
More Resources
Rotating Sprinkler Nozzle Rebates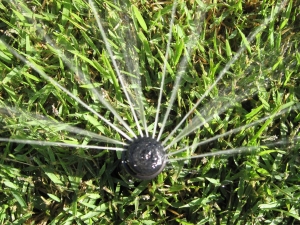 Rotating sprinkler nozzles use 20 percent less water than conventional spray heads by applying water more slowly and uniformly. This prevents misting and overwatering. It also encourages healthy plant growth. The SoCal Water$mart Program offers rebates starting at $2 per rotating nozzle for residential properties. A minimum of 30 nozzles must be purchased.
Soil Moisture Sensor System Rebates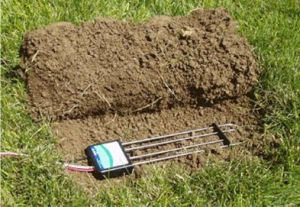 A soil moisture sensor measures soil moisture content in the active root zone on your property. SoCal Water$mart eligible soil moisture sensor systems must include a sensor and a calibrator (these are typically packaged together in the same device) and an irrigation controller. Rebates start at $80 or $35 per irrigation sensor for large residential sites.
Visit SoCal Water$mart for more information.
Sustainable Landscapes Classes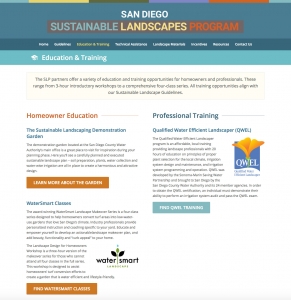 San Diego Sustainable Landscapes Program partners offer a variety of education and training opportunities for homeowners and professionals. These range from 3-hour introductory workshops to a comprehensive four-class series. All training opportunities align with our Sustainable Landscape Guidelines.
Water Use Surveys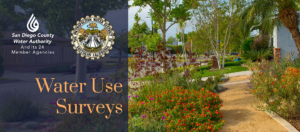 A certified landscape irrigation auditor will survey and provide written site-specific water-saving recommendations for qualifying non-residential properties within the Water Authority's service area at no cost. Eligible landscapes include commercial and industrial sites, homeowner association common areas, and institutional sites like schools, parks and government facilities.
Apply at waterefficiencysurvey.com
Schedule a site walk-through.
Receive a report of observations, recommendations, and if applicable, test results.
Choose what you will do and when. There's no obligation.
Start saving! Although water-savings vary by property, you may save up to 20% and some sites may even save more.
WaterSmart Landscape Makeover Program
The WaterSmart Landscape Makeover Program classes and events offer a great opportunity to create a garden that loves San Diego as much as you do.
With instruction and coaching from industry professionals, this program will educate and empower you to develop actionable landscape makeover plans. Choose from the four-class series, the three-hour workshop, our Video On Demand series or events and resources. All of these will put you one step closer to a better way to beautiful.
WaterSmart Landscape Makeover Videos
This series of videos will take you step-by-step through the process of creating your very own beautiful, water-efficient landscape. From measuring your property to getting to know your soil to picking the right plants for the right place, these entertaining and informative videos will guide you along the path to a WaterSmart landscape.
The video series includes:
Step 1:  Identify Your Landscape Target
Step 2:  Create a Plot Plan
Step 3:  Evaluate Your Site
Step 4:  Design Your WaterSmart Landscape
Step 5:  Implement Your Plan
Step 6:  Care for Your WaterSmart Landscape
Weather-Based Irrigation Controller Rebates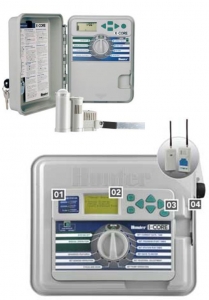 "Smart" or weather-based irrigation controllers can reduce water use outdoors. Unlike standard timers that turn on sprinklers at set intervals, smart controllers use weather data and site information such as plant type and sprinkler system output to adjust watering times and frequency. Professional installation is recommended because proper set-up usually requires knowledge of soils, precipitation rates, slope and other landscape characteristics.
Incentives start at $80 per controller for residential sites with less than one acre of landscaping. For residential sites with landscapes one acre or larger, incentives start at $35 per station. Rebates cannot exceed the purchase price of the controllers.
Visit SoCal WaterSmart or call 1-888-376-3314 for more information. Make sure to look for the WaterSense label.