Residential Landscape Education
Four-Class Landscape Makeover Series
The WaterSmart Landscape Makeover Series is an educational program that will empower you to upgrade your high-water-use turf area into a WaterSmart landscape. This is done through four classes with lectures, hands-on lab work, demonstrations, homework assignments and one-on-one coaching by local landscape and irrigation professionals, all at no cost to you.
Three-Hour Design for Homeowners Workshops
This free, three-hour workshop will teach homeowners the basics of how to do a landscape makeover. Topics include soil, design, turf removal, plant selection, planning, irrigation, rainwater catchment and implementation — all the elements needed to convert high-water-use turf to a beautiful, water-efficient landscape.
Registration is suggested.
Landscape Makeover Videos
This series of videos will take you step-by-step through the process of creating your very own beautiful, water-efficient landscape. From measuring your property to getting to know your soil to picking the right plants for the right place, these entertaining and informative videos will guide you along the path to a WaterSmart landscape.
The video series includes:
Step 1: Identify Your Landscape Target
Step 2: Create a Plot Plan
Step 3: Evaluate Your Site
Step 4: Design Your WaterSmart Landscape
Step 5: Implement Your Plan
Step 6: Care for Your WaterSmart Landscape
Learn How to Live a WaterSmart Lifestyle
Guía digital para un estilo de vida WaterSmart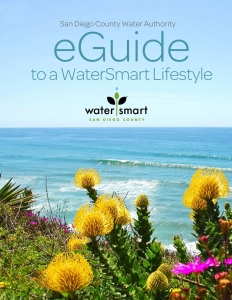 La "Guía digital para un estilo de vida WaterSmart" es nuestro recurso principal para usar eficientemente el agua en el Condado de San Diego. Esta revista digital de 140 páginas toma en cuenta el clima mediterráneo del Condado de San Diego conjuntamente con su estilo de vida activo y de alta tecnología. Está repleta de elementos interactivos que les permiten a los usuarios compartir sus ideas en Facebook o "sujetar" electrónicamente fotos de plantas y jardines para que las vean sus seguidores. También pueden ver vídeos o desplazarse por una biblioteca de imágenes brillantes. Esta revista en línea incluye recursos para encontrar plantas, mapas interactivos, gráficas animadas, calculadoras para el hogar y jardín, herramientas para el diseño de jardines y detalles sobre reembolsos e incentivos. Cada tema está completamente conectado a recursos en línea, permitiéndoles a los usuarios acceder rápidamente información adicional.
La "Guía digital para un estilo de vida WaterSmart" cubre una gran variedad de temas, incluyendo diseño de jardines, plantas de bajo consumo de agua, planificación de áreas exteriores, cómo encontrar y reparar fugas, cómo mantener una tierra saludable, buenas inversiones en equipo de plomería, mantenimiento de jardines y consejos para que tu jardín sobreviva épocas de sequía. Ofrece mucha información, desde ideas de diseño para crear zonas de siembra con un sólo tema hasta estrategias para utilizar aguas "grises" en el hogar y cómo regar eficientemente. Más elementos serán agregados regularmente para reflejar innovaciones y otros desarrollos.
Aprende sobre:
Compras inteligentes para equipo de plomería y electrodomésticos
Cómo encontrar y reparar fugas
Diseño de jardines
Plantas de bajo consumo de agua
Planificación de áreas exteriores
Grupos de jardinería

Aguas grises
Agua de lluvia
Mantener un suelo y tierra saludables
Cómo regar de manera eficiente
Cómo mantener un jardín
Jardines adecuados para un clima semi-árido y resistentes a sequías y mucho más
Lee la "Guía digital para un estilo de vida Water Smart" aquí.
Click here to see our YouTube video and learn more about the eGuide.
Calculate Your Water Use
How much water do I use? How do I compare? How can I conserve?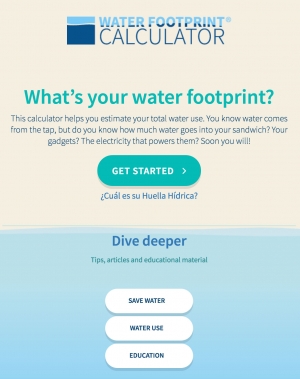 Home water conservation is easy once you understand how and where you can use less. This handy calculator takes individualized input by homeowners and shows which of their water uses are efficient and which are not. It also offers tips that save water and energy. The calculator quickly estimates how much water homes use indoors and outdoors, then compares consumption to average and highly efficient homes in the same area with same number of residents. It also suggests where to begin water-use efficiency improvements.
The residential water-use calculator compares your water use to a similar average and efficient house in the San Diego region. The calculator estimates the energy savings and carbon footprint of your hot water usage, and helps identify specific areas for improving overall household water efficiency. Water conservation is easy and the water calculator gets you started right away.
Find a Qualified Water Efficient Landscaper
The San Diego County Water Authority launched the QWEL program in January, 2016, and the list of certified graduates is growing. You can use our list to find a Qualified Water Efficient Landscaper in your area.
Trained in water-wise landscape practices including plant selection, irrigation system design and water management, a QWEL graduate will help meet your landscape needs while keeping your outdoor water use in check.
Water-efficient landscape practices, a soils overview, irrigation system programming, plant selection and water management are among the subjects included in the QWEL 20-hour professional certification program.
Program Your Irrigation Controller
Timing is everything!
You can literally save thousands of gallons of water in your landscape, and save your plants from drowning, with the proper setting of your irrigation controller. But you can't just set it and forget it. You need to change the watering schedules as plants become established, with the changing seasons and when it rains. Here's an easy guide to make setting your irrigation controller easier than programming your DVR.
If you don't already know how much water your plants need, our interactive WaterSmart Landscaping online gallery and guide will walk you through the steps.
BASIC CONTROLLER FEATURES
Stations control the valves that release the water to the irrigation zones in your yard or garden. Put plants with similar water needs on the same station or zone. This allows for more efficient watering since all emitters and/or sprinklers on a single valve will run for the same amount of time. Multiple stations or zones allow you to customize watering amounts for different types of plants by allowing for different run times for different valves.
The Start Time is the time at which a specific valve will open to irrigate a station or zone.
The Run Time or Station Duration is the time, in minutes, a specific valve will stay open and therefore water a zone.
Semi-Auto lets you run through an entire program (A, B, or C) whenever you want a supplemental watering.
Off or Stop will stop programs from running until you toggle back to 'Run'. Your programs will be saved. This is great during rainy periods.
The Manual button allows you to run a single valve for the amount of time you select. This is helpful when you want to tune-up your irrigation system and check for leaks, misaligned sprinkler heads or clogged drip emitters.
A Program is where you store all of your settings. It consists of a set of stations set to specific start times and run times. Here, multiple programs A, B, & C allow you to run different valves on different days with different run times. Make sure each program runs stations with similar plant water needs to maximize irrigation efficiency.
PROGRAMMING YOUR CONTROLLER
For easy programming, first slide the "Set Program" (1) toggle to the middle, and then start in the upper left corner of your controller and move clockwise through the settings. Start with program A (2).

Set the dial to current time and use the +/– buttons to locate the current time of day. Turn the dial one click to the left and use the +/- buttons to set the day of the week. You only have to do this once (3).
Turn the dial to the "valve run times" to select a station and use the +/– buttons to enter the amount of watering time for that valve, which sends water to a particular zone in your yard or garden (4).
Turn the dial to start times and use the +/– buttons to select time you'd like your irrigation to begin. You can have three different start times per day, but typically you only need one (5).
Now turn the dial to "schedule" the days you want your irrigation to run or the numbers of days to skip in between watering. Use the +/- buttons to enter this information (6).
Now repeat steps 3, 4 & 5 for each station/valve you are controlling, and program A is complete. Use programs B & C for other zones that require difference frequencies of watering, such as turf, low-water-use plants, vegetable gardens, etc.
PROGRAMMING TIPS
Different plants have different watering needs. Find out how much water your plants need with our interactive WaterSmart Landscaping online gallery and guide.
Group stations or valves that require similar watering frequencies on the same program (such as A, B, or C).
Enter only one start time for each program even when there are multiple stations or valves.
Enter different start times on different programs (A, B, C) to avoid overlap of water times.
Use multiple start times if excessive runoff is a problem.
Remember…the controller controls the irrigation system, but YOU control the controller.
LINKS TO CONTROLLER MANUFACTURERS
View 50 Nifty Plants for WaterSmart Landscapes
Find the Right Plant for Right Place Online
If you're looking to upgrade your landscape or just love gardens, then our online plant finder WaterSmart Landscaping in San Diego County is for you!
This interactive gardening tool has thousands of pictures of plants and garden designs that are well-suited to our Mediterranean climate. Take visual tours of beautiful, water-efficient landscapes through photographs that include hotlinks to plant information screens.
Pictures are organized by landscape category to make them easy to find. Explore galleries of ideas for back yards, front yards, hillsides, patios, planters and other outdoor living areas.
Just looking for plants? The website offers more than 1,000 plants and search tools that make plants easy to find. Explore lawn alternatives, butterfly-attracting plants, plants for fire safety, California natives and more.
While you're exploring, save plant and garden images you like to your Plant List, then print reports about them before you shop.
To get started, visit the website and click through the navigation bar to see the lists and resources available.