Schedule a Free WaterSmart Checkup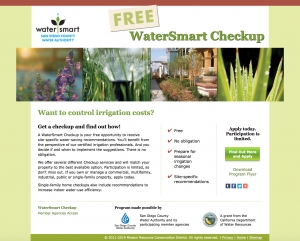 A WaterSmart Checkup is your opportunity to receive free, site-specific water-saving recommendations. You'll benefit from the perspective of our certified irrigation professionals and decide if and when to implement their suggestions. There is no obligation.
We offer several different Checkup services and will match your property to the best available option.
Apply at watersmartcheckup.org
Schedule a site visit for approved applicants.
Receive a thorough audit report.
Choose what you will do and when.
Start saving! Although water-savings vary by property, you may save up to 20% and some sites may even save more.
Program Your Irrigation Controller
Timing is everything!
You can literally save thousands of gallons of water in your landscape, and save your plants from drowning, with the proper setting of your irrigation controller. But you can't just set it and forget it. You need to change the watering schedules as plants become established, with the changing seasons and when it rains. Here's an easy guide to make setting your irrigation controller easier than programming your DVR.
If you don't already know how much water your plants need, our interactive WaterSmart Landscaping online gallery and guide will walk you through the steps.
BASIC CONTROLLER FEATURES
Stations control the valves that release the water to the irrigation zones in your yard or garden. Put plants with similar water needs on the same station or zone. This allows for more efficient watering since all emitters and/or sprinklers on a single valve will run for the same amount of time. Multiple stations or zones allow you to customize watering amounts for different types of plants by allowing for different run times for different valves.
The Start Time is the time at which a specific valve will open to irrigate a station or zone.
The Run Time or Station Duration is the time, in minutes, a specific valve will stay open and therefore water a zone.
Semi-Auto lets you run through an entire program (A, B, or C) whenever you want a supplemental watering.
Off or Stop will stop programs from running until you toggle back to 'Run'. Your programs will be saved. This is great during rainy periods.
The Manual button allows you to run a single valve for the amount of time you select. This is helpful when you want to tune-up your irrigation system and check for leaks, misaligned sprinkler heads or clogged drip emitters.
A Program is where you store all of your settings. It consists of a set of stations set to specific start times and run times. Here, multiple programs A, B, & C allow you to run different valves on different days with different run times. Make sure each program runs stations with similar plant water needs to maximize irrigation efficiency.
 PROGRAMMING YOUR CONTROLLER

For easy programming, first slide the "Set Program" (1) toggle to the middle, and then start in the upper left corner of your controller and move clockwise through the settings. Start with program A (2).
Set the dial to current time and use the +/– buttons to locate the current time of day. Turn the dial one click to the left and use the +/- buttons to set the day of the week. You only have to do this once (3).
Turn the dial to the "valve run times" to select a station and use the +/– buttons to enter the amount of watering time for that valve, which sends water to a particular zone in your yard or garden (4).
Turn the dial to start times and use the +/– buttons to select time you'd like your irrigation to begin. You can have three different start times per day, but typically you only need one (5).
Now turn the dial to "schedule" the days you want your irrigation to run or the numbers of days to skip in between watering. Use the +/- buttons to enter this information (6).
Now repeat steps 3, 4 & 5 for each station/valve you are controlling, and program A is complete. Use programs B & C for other zones that require difference frequencies of watering, such as turf, low-water-use plants, vegetable gardens, etc.
PROGRAMMING TIPS
Different plants have different watering needs. Find out how much water your plants need with our interactive WaterSmart Landscaping online gallery and guide.
Group stations or valves that require similar watering frequencies on the same program (such as A, B, or C).
Enter only one start time for each program even when there are multiple stations or valves.
Enter different start times on different programs (A, B, C) to avoid overlap of water times.
Use multiple start times if excessive runoff is a problem.
Remember…the controller controls the irrigation system, but YOU control the controller.
LINKS TO CONTROLLER MANUFACTURERS
Hire a Qualified Water Efficient Landscaper
QWEL Pros have been trained in efficient irrigation principles and sustainable landscaping practices, and can help to:
Use water efficiently in your landscape
Reduce runoff and overspray
Select and install efficient irrigation equipment
Develop your irrigation schedule and program your irrigation controller
Trained in water-wise landscape practices including plant selection, irrigation system design and water management, a QWEL graduate will help meet your landscape needs while keeping your outdoor water use in check.
Find the Right Plant for Right Place Online
If you're looking to upgrade your landscape or just love gardens, then our online plant finder WaterSmart Landscaping in San Diego County is for you!
This interactive gardening tool has thousands of pictures of plants and garden designs that are well-suited to our Mediterranean climate. Take visual tours of beautiful, water-efficient landscapes through photographs that include hotlinks to plant information screens.
Pictures are organized by landscape category to make them easy to find. Explore galleries of ideas for back yards, front yards, hillsides, patios, planters and other outdoor living areas.
Just looking for plants? The website offers more than 1,000 plants and search tools that make plants easy to find. Explore lawn alternatives, butterfly-attracting plants, plants for fire safety, California natives and more.
While you're exploring, save plant and garden images you like to your Plant List, then print reports about them before you shop.
To get started, visit the website and click through the navigation bar to see the lists and resources available.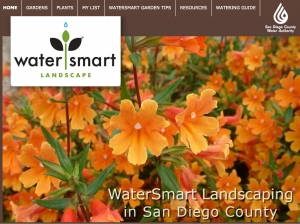 Calculate Your Water Use
How much water do I use? How do I compare? How can I conserve?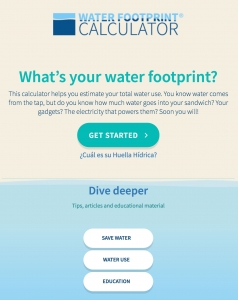 Home water conservation is easy once you understand how and where you can use less. This handy calculator takes individualized input by homeowners and shows which of their water uses are efficient and which are not. It also offers tips that save water and energy.  The calculator quickly estimates how much water homes use indoors and outdoors, then compares consumption to average and highly efficient homes in the same area with same number of residents. It also suggests where to begin water-use efficiency improvements.
The residential water-use calculator compares your water use to a similar average and efficient house in the San Diego region.  The calculator estimates the energy savings and carbon footprint of your hot water usage, and helps identify specific areas for improving overall household water efficiency. Water conservation is easy and the water calculator gets you started right away.