Residential Landscape Education
Four-Class Landscape Makeover Series
The WaterSmart Landscape Makeover Series is an educational program that will empower you to upgrade your high-water-use turf area into a WaterSmart landscape. This is done through four classes with lectures, hands-on lab work, demonstrations, homework assignments and one-on-one coaching by local landscape and irrigation professionals, all at no cost to you.
3-Hour Design for Homeowners Workshops
This free, three-hour workshop will teach homeowners the basics of how to do a landscape makeover. Topics include soil, design, turf removal, plant selection, planning, irrigation, rainwater catchment and implementation — all the elements needed to convert high-water-use turf to a beautiful, water-efficient landscape.
Registration is suggested.
Landscape Makeover Videos
This series of videos will take you step-by-step through the process of creating your very own beautiful, water-efficient landscape. From measuring your property to getting to know your soil to picking the right plants for the right place, these entertaining and informative videos will guide you along the path to a WaterSmart landscape.
The video series includes:
Step 1:  Identify Your Landscape Target
Step 2:  Create a Plot Plan
Step 3:  Evaluate Your Site
Step 4:  Design Your WaterSmart Landscape
Step 5:  Implement Your Plan
Step 6:  Care for Your WaterSmart Landscape
How to Live a WaterSmart Lifestyle
The "eGuide to a WaterSmart Lifestyle" is your go-to resource for living water-efficiently in San Diego County.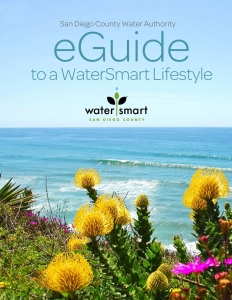 This free digital magazine reflects San Diego County's Mediterranean climate, along with its active, high-tech lifestyle. It is loaded with interactive features that allow users to share ideas on Facebook, electronically "pin" plant and garden photos for their followers, watch videos, and scroll through a library of eye-popping images. The online magazine includes plant finders, interactive maps, animated graphics, home and garden calculators, landscape design tools, and details about rebates and incentives. Each subject is fully linked to online resources, allowing users to quickly access additional information.
The "eGuide to a WaterSmart Lifestyle" covers a wide array of topics, including landscape design, water-efficient plants, outdoor rooms, finding and fixing leaks, healthy soil, smart buys on plumbing fixtures, landscape maintenance and drought survival for gardens. It offers everything from design ideas for creating themed planting zones to strategies for using "graywater" at homes and irrigating efficiently. Features will be added regularly to reflect innovations and other developments.
Learn About:
Smart buys for plumbing fixtures and appliances
Finding and fixing leaks
Landscape design
Water-efficient plants
Outdoor rooms
Gardening groups

Graywater
Stormwater
Healthy soil
Efficient irrigation
Landscape maintenance
Drought survival for gardens and much more
View the "eGuide to a WaterSmart LifeStyle" here.
Click here to see our YouTube video and learn more about the eGuide.
How to Garden in a Drought
California is in a drought and that means that we need to be careful with every drop of water that we use, particularly outdoors. Here's a guide to how to help your landscape survive the drought.
Get Efficient
Introduce drip irrigation.
Invest in a smart controller.
Water less frequently but longer and close to plant roots.
Redirect downspouts to capture rainwater and direct it to garden areas.
Prioritize Your Landscape
Vegetables and fruits get priority. They help feed your family.
Water-wise plants and shade trees. Water-wise plants use little or no water once established. Shade trees help keep plants cool and less thirsty.
Thirsty plants – lawn, high-water-use and container plants. These plants are the lowest on the priority list. If you have to cut back, start here.
Use Mulch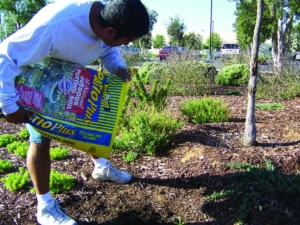 There are many benefits to using mulch in your landscape.
Retain moisture: less watering needed and grow healthier plants.
Moderates temperature: cool soil in the summer and warm soil in the winter.
Decomposes nutrients: enrich soil and better soil quality.
Discourage weeds: keeps weeds away and reduce maintenance.
Can I Plant?
Check with your local water agency and if you can water at least two times a week, you can plant water-wise plants and shade trees. This is not the time to install new lawn or thirsty, non-California friendly plants.
Recycle Indoor Water Outdoors
Recycle water you are using indoors by capturing what otherwise might go down the drain and use it on plants.
Put a bucket in your shower.
Use cooled cooking water.
Wash your fruits and veggies over a bucket.
Keep a pitcher next to the sink and empty water glasses in it.
WaterSmart Landscaping in San Diego County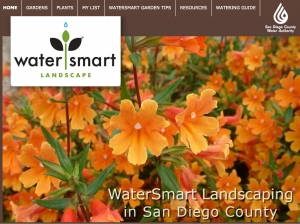 If you're looking to upgrade your landscape or just love gardens, then WaterSmartSDlandscaping.org is for you.
The San Diego County Water Authority's WaterSmart landscaping website has thousands of pictures of plants and garden designs that are well-suited to our Mediterranean climate. Take visual tours of beautiful, water-efficient landscapes through photographs that include hotlinks to plant information screens.
Pictures are organized by landscape category to make them easy to find. Explore galleries of ideas for back yards, front yards, hillsides, patios, planters and other outdoor living areas.
Just looking for plants? The website offers more than 1,000 plants and search tools that make plants easy to find. Explore lawn alternatives, butterfly-attracting plants, plants for fire safety, California natives and more.
While you're exploring, save plant and garden images you like, then print reports about them before you shop.
Click here for this interactive, web-based gardening tool.