Designer At Your Door
Transform Your Yard into a Beautiful Water-Saving Landscape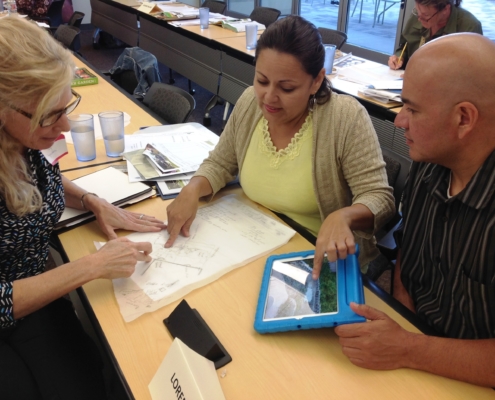 The WaterSmart Landscape Makeover Program team is excited to announce the new Designer at Your Door water conservation service. This service represents an additional opportunity for one-on-one support from industry professionals. Homeowners must meet certain criteria to qualify for this services.
In response to climate changes and the changing needs of regional residents, the Designer at Your Door service incorporates our living curriculum model and complements our special topic workshop classes available both virtually and online. Our on-demand landscape makeover videos round out the core components of this educational program.
Since 2014, the WaterSmart Landscape Makeover Program has helped the region's homeowners replace 1.5 million square feet of turf with sustainable landscaping, saving more than 51 million gallons of water per year! San Diego offers the ideal climate for indoor-outdoor living. Our team is committed to helping you design a garden to live in and one that loves San Diego as much as you do.
How can I learn more about WaterSmart landscapes?
Attend a Three-Hour Virtual Workshop
Find a workshop in your area and get a sneak preview of the series content. These three-hour workshops are free and held countywide. Due to COVID-19 restrictions, all workshops are currently being held online.
Watch Our Videos On Demand
This series of videos will take you step-by-step through the process of creating your very own beautiful, water-efficient landscape.
Think About Your Landscape
How do you use your space? Do you have kids and pets? Do you like entertaining? Or just want less maintenance?