The Qualified Water Efficient Landscaper Program is free local training providing landscape professionals with 20 hours of education on principles of proper plant selection for the local climate, irrigation system design and maintenance, and irrigation system programming and operation.
In order to obtain the QWEL certificate, an individual must demonstrate their ability to perform an irrigation system audit and pass the QWEL exam. Visit qwel.watersmartsd.org for more information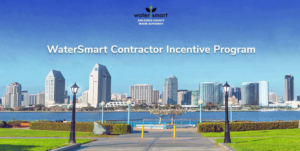 The WaterSmart Contractor Incentive Program (WSCIP) is a large landscape and technology-focused program, that targets qualified landscape contractors and self-managed sites. The programs goal is to improve water-use efficiency in large landscapes by retrofitting irrigation devices.
WSCIP offers several incentivized water-efficient devices that when installed in combination, are among the irrigation industry's best management practices. Enrollment is paperless – create an account and verify your qualifications. This program is available for a limited time. Program requirements, qualifying irrigation devices and rebate amounts are available at sdwatersmartcip.com.